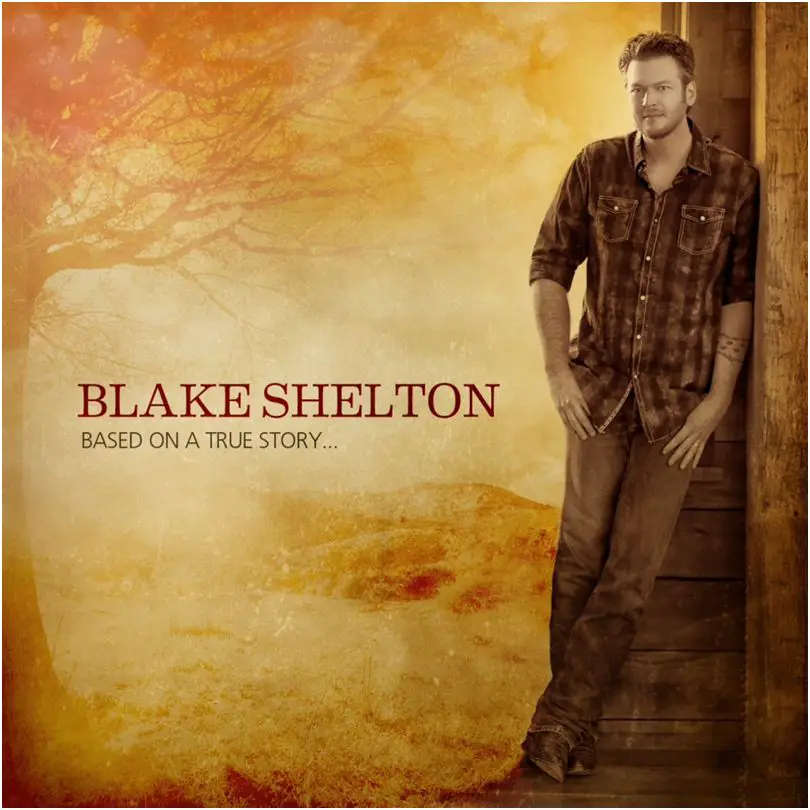 Two-time defending Voice defending champion, "old fart" galvanizer, and country superstar Blake Shelton unloaded a ton of news today, premiering the video for his new hit "Sure Be Cool If You Did," and announcing the release date and title for his upcoming album. But that's not all! Here exclusively at MJ's we've got the writing credits for the songs AND the songwriter's demo for 1 of the tracks AND a songwriter's peformance of another track!
Blake will release his 7th full length studio album, Based On A True Story, on March 26th 2013. Just a day after the new season of The Voice premieres, how convenient! The official album art probably uses the same photoshopper as his Cheers It's Christmas album cover. Meanwhile Blake is off having a staring contest with an offscreen statue.
Here is the tracklisting with confirmed songwriting credits in parentheses:
1. "Boys 'Round Here" (Dallas Davidson, Thomas Rhett Akins, Craig Wiseman)
2. "Sure Be Cool If You Did" (Jimmy Robbins, Chris Tompkins, Rodney Clawson)
3. "Do You Remember" (Michael Dulaney, William Gray, Ian Kirkpatrick)
4. "Small Town Big Time" (Clint Lagerburg, Craig Wiseman)
5. "Country On The Radio" (Rodney Clawson, Chris Tompkins, Craig Wiseman)
6. "My Eyes" (Andrew Dorff, Tommy James, Josh Osborne)
7. "Doing What She Likes" (Wade Kirby, Phil O'Donnell)
8. "Still Got A Finger" (Gary Hannan, Craig Wiseman)
9. "Mine Would Be You" (Jessi Alexander, Connie Harrington, Deric Ruttan)
10. "Lay Low" (Dean Dillon, Tim Nichols, David Turnbull)
11. "Ten Times Crazier" (Rhett Akins, Marv Green, Ben Hayslip)
12. "Granddaddy's Gun" (Thomas Rhett Akins, Dallas Davidson, Bobby Pinson)
Check out the demo for "Mine Would Be You" here. It's in a similar space as Blake's cover of Christian contemporary singer/songwriter Dave Barnes's "God Gave Me You," which Blake took to #1 at country radio.
Here is Rhett Akins (father of the song's co-writer Thomas Rhett Akins) performing "Granddaddy's Gun":
Last but not least, check out the PREMIERE of the video for Blake's current single, "Sure Be Cool If You Did"
BONUS: Blake visited the Today Show with Kathie Lee Gifford and Hoda Kotb for an interview to premiere his video, announce his album title and release date, and chat about the upcoming season of The Voice:
http://www.youtube.com/watch?v=Yi6ip-kUiHQ
video via Zihan Ong