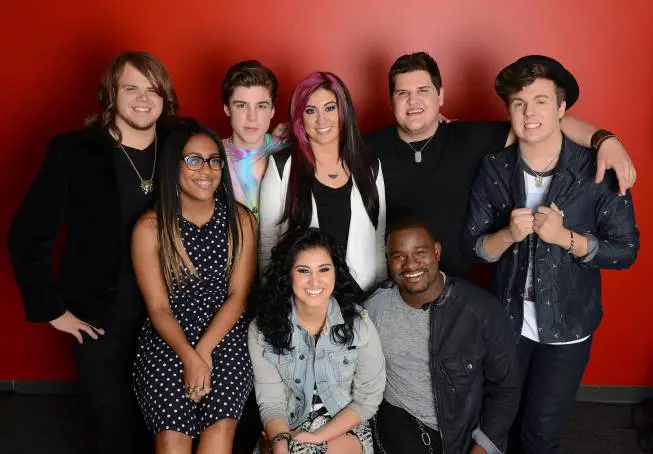 Next week, the American Idol Top 8 will sing their very first audition song. But we already knew that.  Plus, Chris Daughtry and his band will perform "Waiting for Superman." Yay for the return of the Idol alum! Check out the FOX press release below.
MAJESTY ROSE IS ELIMINATED ON "AMERICAN IDOL XIII"
TOP EIGHT FINALISTS TAKE THE STAGE IN A "BACK TO THE START (FIRST AUDITION)"-THEMED PERFORMANCE SHOW WEDNESDAY, APRIL 2, ON FOX
Multi-Platinum Band Daughtry to Perform on IDOL Stage During LIVE Results Show Thursday, April 3, at 9:00 PM
Majesty Rose was eliminated tonight on AMERICAN IDOL XIII, after she received the fewest votes. From Goldsboro, NC, the 22-year-old sang "Shake It Out" on last night's performance show. Plus, Grammy Award-nominated pop star Janelle Monáe performed her new single, "What Is Love," from the album "Rio 2: Music from the Motion Picture."
Next week, on Wednesday, April 2 (8:00-10:00 PM ET live/PT tape-delayed), the Top Eight – C.J. Harris, Jena Irene, Caleb Johnson, Jessica Meuse, Alex Preston, Dexter Roberts, Malaya Watson and Sam Woolf – will perform on the "Back to the Start (First Audition)"-themed performance show. Each of the finalists will sing his/her very first audition song.
On the next live results show airing Thursday, April 3 (9:00-9:30 PM ET live/PT tape-delayed), tune in to find out who will be sent home. Plus, multi-platinum band Daughtry, fronted by Season Five IDOL alum Chris Daughtry, and just off a European and sold-out U.K. tour, will perform their new single, "Waiting For Superman."