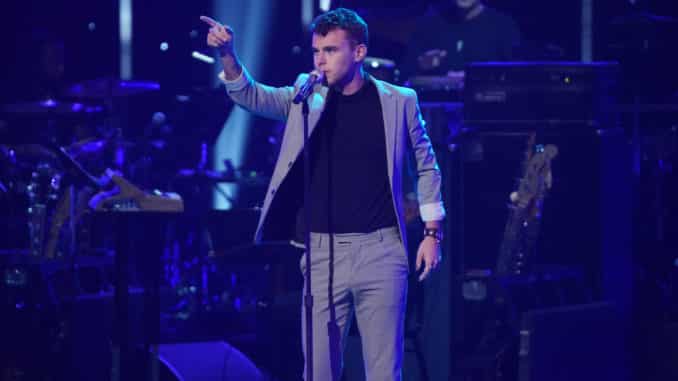 American Idol 2021 Recap Showstopper/Top 24 Reveal Part 1 Live Blog
American Idol 2021 Showstopper/Final judgment begins tonight. The remaining 64 contestants sing for the first time backed by a full band. A lucky group of 24 contestants will move on to Celebrity Duets/Solos round. Who will survive?  Who will be sent home! We're live blogging all the performances and results here.
Judges Lionel Richie, Katy Perry and Luke Bryan return, along with host Ryan Seacrest. Due to the COVID-19 pandemic, social distancing is the rule in the ouse! 
VOTING BEGINS NEXT WEEK. 
American Idol 2021 Spoilers: Top 24 Celebrity Duet Pairings Revealed
American Idol 2021 Spoilers: Top 24 Contestant List 
American Idol 2021: Full Season 19 Schedule 
NO SPOILER TALK IN THE COMMENTS HERE. Keep it in the spoiler post. Thank you.
Oh wait. Lionel Richie, due to a potential exposure to COVID-19, is ZOOMING IN FROM HOME. Katy and Luke will deliver Final judgment to some contestants, Lionel will to others over Zoom. 
Alyssa Wray – I'm Here from The Color Purple – This performance was previewed over the weekend HERE.  At this point, if Alyssa doesn't make the Top 24 and farther, it will be a shock. She performs with a big booming voice. Yet, her delivery is effortless. She commands the stage. This girl could head to Broadway. Katy thought the vocal gymnastics were too much, however Hm. I thought the theatrics fit the song. 
Final Judgment: Alyssa is a nervous wreck. Luke calls her performance amazing. But he points out what he considers oversinging. Katy tells her to calm down, basically. "You can't throw 52 cards at our faces." They are psyching her out…because of course… Alyssa is in the Top 24
Jason Warrior – Believer by Imagine Dragons  – His backstory: He was mean to Meghan Trainor on The Four. No really. Will the third time be the charm for Jason (From The Voice to The Four to American Idol). Interesting song choice. It's not an easy song to sing! Imagine Dragons trips up contestants, often. But he's delivering a strong, passionate performance. Jason's histrionics are working here. Katy is afraid Jason will lose his voice if he keeps singing like that. Luke is all "he's 25, it hasn't happened yet!"
Final Judgment – Lionel delivers the news over Zoom. He mentions that he has the tendency to "overdo." He says, "This is very tough for me, very tough for me, I only have one question for you. Now that you're in the class of 24 what's next for you." Oh these fake-outs. After, Jason cries with relief. "I've been fighting my whole life," he says. Jason is in the Top 24
Alex Miller –  Alex emerged from his audition as a front runner. Katy and Luke chit chat with the young singer before delivering the news. After his duet, Luke asked him to pick a song out of the old school country box. But instead, he chose "Silver Wings" by Merle Haggard. Alex is not following instructions. Luke looks irritated. The thing about Alex, his personality has carried him through the competition so far. There are better, more interesting country singers that remain. Katy says, "It wasn't a great performance."
Final Judgment – Luke suggests that he take his personality and carve out his own style. He thinks he leans too hard into the old styles. To his credit, Alex is taking it well. Although, his dad seemed a little confused about what happened. He plans to take the judges advice, but he didn't throughout the process, so will he really?   Alex is eliminated.
Consolation prize: Luke made some calls, and Alex will appear at the Grand Ole Opry.
Andrea Valles – Blinding Lights by The Weeknd –  Because Katy wasn't sold on her initially, Andrea has spent the rest of the rounds proving herself. When she was a kid she drew a picture of herself on the American Idol stage. The performance is montaged, which is usually not a good sign. Katy calls the choice "the wrong song." 
Final Judgment – Lionel notes that she chose the wrong song, but nevertheless, "We don't think you're ready," says Lionel, "TO GO HOME." He's brutal with these fake outs. Andrea is in the Top 24
Chayce Beckham – You Should Probably Leave by Chris Stapleton – Chayce talks more about recovering from alcoholism this year. He's very emotional discussing it. I was lukewarm on Chayce after his audition. But since then, his gravelly, rough hewn voice has grown on me. His song choices are always spot on. "His voice sounds a little shot," says Katy. Luke and Katy didn't like the song choice. So, the thing tonight is that they hate everyone? Even the singers that move on?
Final Judgment – Katy calls him gritty and real. She notes that Showstoppers was not his best moment. "It was time to play the ace," she says. Eh. I think she's being hard on him. "You get one more play," she says. Chayce is in the Top 24
Caleb Kennedy – When You Leave Tonight (Original) –  After his parents divorced, he became estranged from his dad. But they've grown closer in the past few years. He was almost cut after the duets. Nevertheless, Caleb says he's learned a lot in Hollywood. But in the meantime, he changed his song from "Help Me Hold On" by Travis Tritt to an original song. He said his "gut" told him to do it. He doesn't regret it. It's a big risk, but Caleb is actually a decent songwriter. And of course, Katy hated it.
Final Judgment – Luke thought his audition song was better. Katy warns him not to second guess himself. "We're not confused…you're going through. You're in our Top 24," says Luke. Lionel is MUCH BETTER at the fake out. A spot was probably either going to Alex or 16 year old Caleb, and it's a no brainer. This kid has potential. Caleb Kennedy is in the Top 24
It seems Katy and Luke are talking all the performances down so the result is a surprise. 
Wyatt Pike – Blame it on Me by George Ezra – I'm not sure I like this song choice. A song that allowed Wyatt to connect emotionally, with more resonance would have been a better pick. A crucial moment like vying for the Top 24 calls for more than a mid-tempo strummer. "He needs a little luck right now to take him over the edge," says Katy
Final Judgment – Katy says he's turning into an artist right before their eyes. "You're a little left of center, is that what people want?" asks Luke. He says YES! "Don't go changing on us." Wyatt is in the Top 24. 
Cassandra Coleman – Running with the Wolves by Aurora – She was Wyatt's duet partner. She feels that was her best Hollywood performance. Cassandra has issues with nerves. She talks it out with Bobby. She has a hard time staying calm! He tells her to picture something positive while she's on stage. Weirdly, her nerves kind of work for her? Her vulnerability in the moment is appealing. I love her trembly vibrato and sweet tone. Her musical choices are terrific. At the end, she hits some incredible high notes.
Final Judgment – Katy compares Cassandra to Florence from Florence + the Machine. They sense she's getting close to freeing herself. "You're very pure," Katy says. Luke is looking for consistency. "And the other problem is we don't want to see you go." Luke tells her not to be afraid to fail.  Cassandra is in the Top 24.
Amanda Mena – All By Myself by Eric Carmen (Celine Dion) – Oh I hate this song choice. She's really straining on the high notes. This is her worst performance so far. Damn. Katy wants her to figure out who she is. Lionel delivers the news. Amanda is eliminated. Too bad. She's good. 
Anthony Guman – This Love by Maroon 5 – No crazy outfits for show stoppers. Anthony isn't a bad singer, but he doesn't have a ton of charisma. Lionel delivers the news. Anthony is eliminated.
Beane – What's Going On by Marvin Gaye – Beane has struggled a little to find himself in the competition. He liked his solo, but not his duet. He's excited to grow and to be better. He's looking for a song that he can connect to. So it's soul instead of rock this week? Beane shouldn't ricochet between styles. But having said that, his musicality is impressive. He's emphasizing vocals and feeling over theatrics this time. He seems like a smart and self aware player. He puts his own stamp on the song. Katy and Luke actually stand up. 
Final Judgment – Lionel doesn't even beat around the bush. "It's going to be a beautiful day in the neighborhood," nodding to his Mr. Rodgers comparison from the audition. Beane is in the Top 24
Hannah Everhart – Wrecking Ball by Miley Cyrus – Hannah, from a small town in Mississippi, is channeling Axl Rose, wearing a bandana. She confesses that she's never performed with a band. The song choice is unexpected. The performance isn't even country-fied. Hm. I'm not feeling a connection to the song. Luke doesn't know if it's all the way there.
Final Judgment – Katy wants Hannah, at 17, to do the work. "When I see you next time, will you bring me some ribs," says Katy. Her inclusion in the Top 24 is perplexing. The judges couldn't find a better female country singer? Hannah is in the Top 24
Graham DeFranco – Beautiful War by Kings of Leon – His dad was supposed to accompany Graham to the audition. But then, he was diagnosed with stomach cancer. That's horrible. Graham sounds a little breathy on the verse. I like his phrasing, but I'm not sold on his tone. Luke and Katy weren't crazy about his song choice. That was a bit lackadaisical, actually. He needed to do more at this point in the competition.
Final Judgment – Katy says he's as good as all of them, but he's got to believe in himself. "I do have to unfortunately tell you…that you're in the Top 24." He shares the good news with his dad in the Zoom Room. His family is thrilled – Graham is in the Top 24. 
Murphy – Am I Still Mine (Original) – Bobby advises him to work on eye contact. Well BOBBY HE'S LEGALLY BLIND. Geez. Murphy will probably lose his eyesight in his mid 30s, he says. Keeping his eyes open in bright lights actually damages them. Murphy sings an original song. Probably a wise choice. He connects better on his own stuff. 
Final Judgment – Murphy gets bad news on his birthday. Katy thinks Murphy has grown right before their eyes, but believes he needs more experience. "We don't want to clip your wings, but sometimes we have to deliver unfortunate news." This is sad. He was so confident in his performance. And to be honest, this was a weird call. He would have fit comfortably into the Top 24. He wanted to show America what he had next. WELL HAPPY BIRTHDAY MURPHY. Oof. One issue is that Murphy doesn't really connect to songs that aren't his own. Still, just based on performance I would have swapped Murphy in for Graham DeFranco for sure. – Murphy is eliminated.
Alanis Sophia – Uninvited by Alanis Morissette – We previewed this performance HERE. She's by herself, without her mom, for the first time, and she misses her. Mom named her daughter after her favorite singer, Alanis Morissette. And tonight, Alanis is singing one of her classic songs. This performance is pretty great. Alanis sings confidently with terrific intonation and phrasing. She soars into the upper reaches of her range. 
Casey Bishop – She Talks to Angels by Black Crowes – After her audition, where she tackled both rock and standards, Luke had called Casey the "damn winner of American Idol." Apparently, her duet went south. The judges said they were letting her through with reservations. And tonight, she sounds off pitch on the high notes. She's a little shouty too. She has performed better. But the gal can wail, for sure. 
Final Judgment – Casey and Alanis face their final judgment together. Katy and Luke set up the result like only one will go through. "Now I have to deliver the news of who is going through to the Top 24…" OH IT'S A CLIFFHANGER. WAIT UNTIL TOMORROW.
The remaining Top 24 will be revealed tomorrow (March 29) at 8 pm ET/PT on ABC. Join us!
TOP 24 SO FAR
Alyssa Wray
Jason Warrior
Andrea Valles
Chayce Beckham
Caleb Kennedy
Wyatt Pike
Cassandra Coleman
Beane
Hannah Everhart
Graham DeFranco
Eliminated
Alex Miller
Amanda Mena
Anthony Guzman
Murphy
CLIFFHANGER – Will find out Monday
Alanis Sophia
Casey Bishop