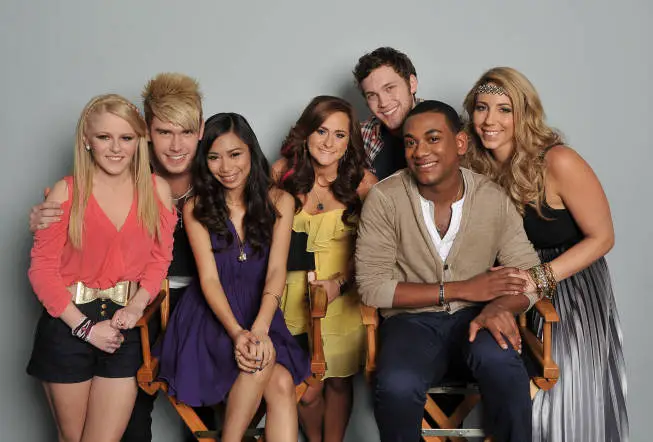 The American Idol 11 Top 7 sing the songs from this decade tonight.   Jimmy Iovine will be joined in the studio by Akon.
Download Studio Performances From Tonight's American Idol
I'll be live blogging all the action at Entertainment Weekly. Join me there, will you? After, I'll be back with a recap. Watch this space for photos and videos.
Entertainment Weekly Live Blog
You're welcome, Nigel! Well, not me specifically, but every fan who BITCHED about giving us a modern song week. After the disaster that was Billy Joel week, when the kids mostly had no connection to the songs they were singing, with the results being less than satisfying–it was time to give the kids some relevant songs.
The best thing about tonight, is that we really got to see the remaining contestants as they would be out in the music world, and the view was pretty good.  Colton is destined for success in CCM, Skylar could have hit records on the country charts, with the right material, Joshua could burn up the rhythmic charts.  Jessica could be a force unto herself, crossing over to pop, to hac and rhythmic. Elise's retro rock soul could take her to adult alternative, Phil could do his jam band thing at Bonnaroo and even Hollie, after a few years experience, could hit the pop world.   This week's theme enabled me to clearly envision what could become of these kids in a post-Idol world.
More please, Nigel! Keep the themes loose. Let the kids pick songs that suit their individual styles, and we'll be in for some highly entertaining shows between now and the finale.
My favorite performances tonight were from Joshua, Elise and Jessica. I could totally go for a Jessica/Joshua final two, but i can't see a final without at least one white guy.  Jimmy has pitted Colton against P2.  I suppose the tactic could be a motivating factor for both of them, but really, I thinkk the producers figure a rivalry could make for good TV.  There's a little bit of that going on with Jessica and Josh, but I can't see either of them picking up that ball and running with it.
By the way. I wouldn't angst too much about this week's results. I think there is a pretty good chance the judges will use the save tomorrow. It's either this week or next, and because of the DQ of Jermaine Jones, the save HAS to be used to make up for the extra elimination.
***
I really hate the over-dramatic packaged intros that begin the show now.   I really miss the live cold openings of yore.
Jlo is ROCKING THE HAIR EXTENSIONS this week.  The crowd is screaming their heads off. What did they give those teenagers in the audience to make them so crazy tonight?
Tommy Hilfiger stopped by the mansion to give the kids some more really bad fashion advice they won't take. Oh, now Tommy is telling them what they should wear off-stage as well. Dream on.  Tommy dresses Phil in a fairly conservative outfit. P2 remains skeptical.
Camera crews traveled to the Idol's hometowns to check out what kind of support they have there.
Skylar Laine – "Didn't Know How Much I Loved You" by Kellie Pickler –  Shout out to Skylar from Grandpa, "We're gonna kill that big deer next year!"  You betcha! Jimmy has never heard of this Kellie Pickler song, so he's a little skeptical.  He also isn't sure if Skylar should play her acoustic guitar like she planned.  I'm impressed with the way Skylar, at such a young age, seems to know who  she is as an artist. She sticks to her plan, despite Jimmy's misgivings, and it works out for her.  The guitar doesn't necessarily enhance her performance, but it doesn't hurt it either. And she shows a side of herself we haven't seen yet. Her vocals are really lovely and heartfelt on this song.  I'm not sure why she's got flames shooting out of the stage, but it's not too distracting.  Randy declares that Skylar "is back."  Crazy hot. And perfect pitch, according to Jlo.  Steven is enamored with the women this year. "The crows make crow, but the hens deliver the goods." –  1-866-436-5701

Skylar Laine, Top 7 Compete ~ American Idol 2012 by HumanSlinky
Colton Dixon – "Love the Way You Lie" by Skylar Grey – Jimmy challenges Colton "It's you against Phillip. Let's cut the bullsh*t. I think you're behind Phillip."   what kind of crap is that? Jimmy is like a sadistic dad. Jimmy and Akon don't like Colton's original arrangement, so they suggest some changes.  Colton feels super pressured this week, but thinks his song pick has the potential to be a moment (Doesn't he say that, like, every week?)  Colton plays the piano, putting his signature angsty spin on the tune.  This week, the Big Note comes in the middle of the song rather than the end.  He's got smoke and strings on stage with him.  Tonight, Colton does Colton very well. His fans must be thrilled, but I'm not sure that performance attracted any newbies.   Jlo says he always surprises her with his approach to the notes. "It's always very Colton," she says. But she wishes it were more of a song. Steven calls him "a rare talent" and thinks he could send the live recording straight out to radio. "Colton hasn't found his top yet" sounds vaguely dirty. Heh. But it means that the singer has more room to grow.  Randy loves that the performance was subtle and sensitive. Colton told Ryan he was going to originally sing "I Will Not Bow" by Breaking Benjamin, but Jimmy and Akon steered him in another direction, and he's glad. 1-866-436-5702

Colton Dixon, Top 7 Compete ~ American Idol 2012 by HumanSlinky
Elise Testone and Phil Phillips –  "Somebody That I Used to Know" by  Gotye – Phillip and Elise's sarcastic little video at the top is cute.  They roll their eyes at each other. Fake fighting during rehearsal! Elise really really wanted to do the song. No wonder, because she pretty much kills it, while 3-note Phil has some trouble on the chorus.  Elise sings more than Phil does, and I don't think it's an accident.  Steven says they nailed it. Jlo says they made it work. She feels Elise sang it better. So does Randy. These two sing together pretty well. I predict a duet on tour.

Elise & Phillip, Top 7 Compete ~ American Idol… by HumanSlinky
Jessica Sanchez – "Stuttering" by Jazmine Sullivan – This week, Jessica sings a song that Jimmy doesn't know. I suspect most in the audience won't know it either, so when she sings a carbon copy of the original, she won't get called on it.  Akon became a Jessica fan when he saw her on TV this year.  He pimped her to Jimmy, "Feed her a few more hamburgers, and she's ready to go." Whatever that means. Regardless, Jessica hits the stage and delivers a vocal with nuance and passion. If Jessica wins the whole thing, I will not be mad.  Girl, go snatch that crown from the boys! No standing o? She deserved one.  Randy feels like she set the bar really high for herself tonight. "You slayed the biggest fish of the night." Jlo says  she could feel Jessica really digging into the song in the middle. But she's still waiting for a Joshua-like performance–one that really impacts the audience.  (I think she's done that already)  Steven says she slays it every time.  – 1-866-436-5703

Jessica Sanchez, Top 7 Compete ~ American Idol… by HumanSlinky
Joshua Ledet – "Runaway Baby" by Bruno Mars – Bruno put on a sensational show at the Grammys this year with this song. Let's see how Joshua does.  Jimmy and Akon work on making Joshua's song more dynamic.  Akon is feeling him. "With his tone, he can pierce through people's hearts."  Joshua gets a 20th birthday shoutout from Fantasia! "From Fantasia to Mantasia," she says. Eep.  This performance is pretty hot. In place of a gospel choir this week are horns and go go dancers.  For the first time I can see Joshua fitting into the contemporary R&B world–with a throwback style that's got a contemporary twist. When Joshua is ON he commands the stage. One of his best performances to date. The judges give him a standing ovation.  Steven says he can sell a song like a work of art. Then Steven tries to set him up with one of the go go dancers. (Uhm. No.) Jlo explains why she compared Joshua to Jessica–because he just illustrated that it's more than the vocals–it's being dynamic, energetic, and taking control of the audience.   Randy says, "I think we've got somebody who really's got to have it."  Yeesh. Ryan brings Joshua's dad up on stage and asks him if he approves of the go go dancer. Dad looks really uncomfortable. Argh.  – 1-866-436-5704

Joshua Ledet, Top 7 Compete ~ American Idol 2012 by HumanSlinky
Colton Dixon and Skylar Laine – "Don't You Wanna Stay" by Kelly Clarkson and Jason Aldean – NEWS BULLETIN.  Nobody has ever, EVER thought that Colton and Skylar were an item. And as hard as you're trying to drum up some stupid fake ship, WE STILL DON'T. So stop it. Now. Oy. There is one funny quip: Colton says he isn't dating Skylar because she owns a gun. This duet is fraught with problems. The song is too big for Colton, and out of Skylar's range. She can't hit the high notes. These two have no chemistry at all. Still, Randy is the only judge who is willing to call out Skylar on her pitch problems.  When cornered by Ryan, Jlo admits it too.  Kelly isn't called Queen for nothing.

Colton & Skylar, Top 7 Compete ~ American Idol… by HumanSlinky
Hollie Cavanagh – "Perfect" by Pink  – Jimmy says that the only thing she is missing is a certain type of experience, and it's true. For once, Hollie is wearing an outfit that isn't 30 years too old for her. She looks so pretty. Her vocal is flawless and strong, but she takes every bit of grit out of the Pink version.  She sings it like a school girl who has never had a care in the world.  Even when she sings with confidence, I don't feel a connection to the music from her.  It could certainly come to her eventually, but it's not going to be in the next few weeks.  Jlo gave her a few sweet, if not effusive, compliments. but Steven didn't like it at all, "It wasn't perfect..it just laid there a little bit for me."  What? At least explain to the girl what the hell you mean.  *crickets* after his critique. Randy calls her out on pitch problems, which is absolutely baffling. I think Hollie is going to get a slew of pity votes tonight.   1-866-436-5705

Hollie Cavanagh, Top 7 Compete ~ American Idol… by HumanSlinky
Phil Phillips – "Give a Little More" by Maroon 5 – So, what is this game Jimmy is playing? He pits Phil against Colton, but in this go round, Colton has the edge, because he attracts more girls. Does Jimmy enjoy playing head games with people, or is this just for TV? Akon doesn't think Phill's song is exciting enough. Jimmy says not to be different just for the sake of being different. That's been my beef with Phil. He "switches things up" only to make his songs –with some notable exceptions–sound the same every week.  Female sax player is on stage with him. The song was best when it was just him and the sax. When the band kicked in, things got a little dull.  Steven's critique made absolutely nos sense, "The more you've taken serious to yourself, the more your singing melody and hitting the lines, which is a lot different than the Phillip Phillips who came here to begin with."  OOOK.  Steven compares him to Steve McQueen and Johnny Cash. He had to look down at his notes for that bon mot. Jlo was underwhelmed. Oh. She calls him out on sounding the same every week! Randy agrees with her. Finally. – 1-866-436-5706

Phillip Phillips, Top 7 Compete ~ American Idol… by HumanSlinky
Hollie Cavanagh, Joshua Ledet and Jessica Sanchez – "What Doesn't Kill You (Stronger) by Kelly Clarkson – Ah. Joshua and Jessica are besties! Watch their interaction, Steven, and get a clue. Just sayin'.  Whoa. The harmonies are messed up. Lots of pitchy moments there, although the ship kind of righted itself by the end. Messy.  Jlo calls this season of Idol the "season of the big voice."  Jlo chooses not comment on the vocals directly, just that the trio make her proud. Steven calls it "Beautiful" in other words, "I don't feel like critiquing."  Randy thinks it was really good, but gives the edge to Joshua. (He sang in tune the most, at least).

Hollie, Joshua & Jessica, Top 7 ~ American Idol… by HumanSlinky
Elise Testone – "You and I" by Lady Gaga –  Ah…Elise is a Jason Segal fan, and she gets a shout out from him via video!  Jason says he's giant fan of hers! Aw.  Wow. Elise wants to start the song from behind the drums. Thank God Jimmy talks her out of that disaster.  Akon tells her, "What needs to happen is you need to kill it." TRUTH.  Some of you may remember that Haley was handed this song last year,  by Jimmy, before Gaga released it. But because the tune was brand new, and even though Haley killed it, the judges poo poohed the song choice. In hindsight, I think the judges were setting up a redemption arc for Haley, because she ended up "redeeming" herself in her second song.  I'm not even going to compare Elise to Haley. I like both versions a lot.  Elise brings a gritty soulfulness to her interpretation, and I dig it.  This time around, the judges had no problem with the song choice at all. And speaking of redemption, they treat this performance as Elise's comeback from last week's subpar outing. "Elise is back!" screams Randy. He thinks she had a moment tonight. Jlo says there's no one who sings like her. Steven says she turned the song into genius. –  1-866-436-5707

Elise Testone, Top 7 Compete ~ American Idol 2012 by HumanSlinky
Lots of time to kill! Ryan wants to know from the judges if the contestants took the modern theme and  successfully presented themselves as the artists they are, or could be, and the consensus is yes. Steven says he thinks the songs picked the contestants this time around.  The judges refused to name a contestant who might be in trouble. Randy says that at this point of the competition, you never know what's going to happen.