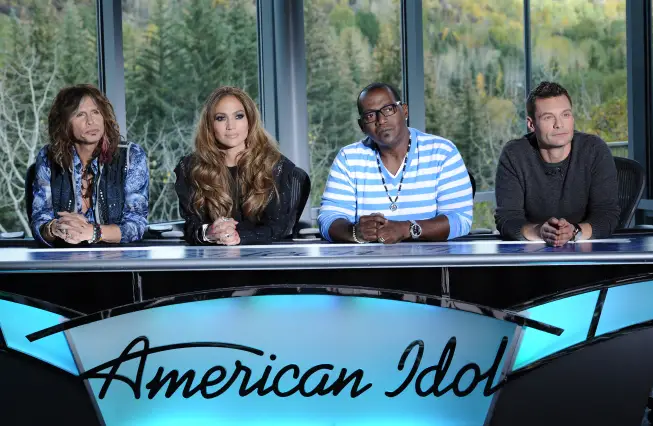 Here's your American Idol 11 Aspen auditions recap post. I'll be live blogging tonight at Entertainment Weekly. Do join me there if you'd like! I'll be back here as soon as the episode ends on the East Coast to post videos, polls and a full recap!
Entertainment Weekly Live Blog
For you chat fans, I also set up a client here if you'd like to gab Idol.
Think we'll see the gang hit the slopes tonight? Hm?
Tonight's show was so…Zzzzzz… Maybe it was the super-thin air in Aspen? Because the Aspen auditions have to go down as the Most. Boring. Ever. I can barely muster the ambition to recap this mess. But I'll try. Thirty one singers advance to Hollywood.
So much lazy judging in tonight's episode. The trio let mediocre talent pass on to Hollywood without any criticism at all.  In the first 3 episode,  Jennifer and Steven in particular offered up some very useful advice to the hopefuls. Maybe the thin Colorado air made the trio loopy.  I just hope they see the Aspen auditions as an interesting experiment, and never go there again.  If there was any good talent in Aspen, the producers didn't choose to highlight it.
Jenni Schick – 24 – Sterling, VA – Heartbreaker by Pat Benatar – Well, Jenni sure is PERKY. She's yet one more female contestant who wants to get it ON with Steven Tyler. "I'll take this one," he says.  OK. We get the shtick. Now can we stop it? Her vocals are shouty and unfocussed.  Her mannerisms are super annoying.  She teaches music to kids. That's a little scary.  In the end, she gets her kiss from Steven, and a ticket to Hollywood.
Curtis Grey – 28 – Spring Hill FL – "It's So Hard To Say Goodbye to Yesterday" by Boyz II Men – Curtis, who sings in church and  plays in a 5 piece band, is one of the best of the night, but that's not saying much.  He's got a nice tone, but his phrasing is terrible and he's kind of boring. Jlo thinks he's really good looking, but I'm not seeing any star quality.  Curtis could have used a little constructive criticism, but the judges praise him effusively and send him on to Hollywood.
Richie Law – 19 – Centennial CO, Devan Jones – 26 – Aurora CA – and Mathenne Trego – 25 – Centennial CO – Next is a montage of a few half-decent voices.  Richie Law is Scotty McCreery 2.0.  He doesn't stand a chance. Devan Jones has a very smooth falsetto. I would have liked to hear more from him. Mathenne Trego is very soulful, but looks like he could annoy pretty quick.
Tealana Hedgespeth – 19 – Loveland CO – Bring Me Some Water by Melissa Etheridge – This was pretty tragic.  The saddest auditions are the bad auditioners  who genuinely believe they have talent. Tealana has a twin sister who she feels super-inferior to by comparison. Her lack of confidence makes her toneless singing even sadder. "If you ask her for another song," Jlo whispers to Steven, "I'm going to kill you."  They let her sing on and on without stopping her. It's mean.  They won't tell her right out that she's talentless. "The singing's not there yet," says Randy. YET?  I wonder if her twin can sing?
Haley Smith – 18 – Orem UT – Tell Me Something Good by Chaka Khan – Hippy Dippy! Haley lives in a log cabin and is a vegetarian. Natch. She works in a meat factory? Hm.  She's our token Aspen hippie, our Haley is.  She busts out some Chaka Khan, and while her style is unique I found her tone really really shrill. Steven loves her. LOVES HER.  "I'm honored to be here listening to your voice," he says. Randy says she put her own flower child spin on Chaka.  She probably sounds better with a band or singing her own music.  I just wish her vocals were a little warmer.
Alanna Snare – 22 – Fort Collins CO – Jolene by Dolly Parton –  Alanna works in a bar that  sells something called Rocky Mountain Oysters, which are actually bull testicles. Many many many jokes ensue. She also sells buffalo and turkey ones as well. Tasty! Not tasty? Her singing. The producers thought it would be hilarious to punctuate her awfulness with barnyard sounds. Har dee har har.  At least the judges are honest here. Randy pulls out the "Singing is not your thing" chestnut.  Butchering "Jolene" like that is a crime.
Shelby Tweten – 17 – North Mankato, MN – Temporary Home by Carrie Underwood – Here's the big backstory of the night. Shelby has recently been diagnosed with bipolar disorder. She says, "American Idol is the only thing keeping me on my meds."  Singing helps alleviate her symptoms.  Her vocals are pretty, but unremarkable. And I'm not hearing much authentic country in there.  The judges over praise her, "I've got tears in my eyes," says Jlo. I can't help but wonder if the judges are touched by Shelby's backstory, rather than her singing.  Big, huge yes to Hollywood.
Jairon Jackson19 – Denver CO – So Hard (Original) –  He introduces himself as "Jairon don't forget the Jackson"  Yeah. Dawg.  He sings an original song and it's not half bad.  His songwriting is actually better than his weak, goatie singing.  Once again, the judges offer no real criticism.  "You're a lover," says Jennifer. I have no idea what that means. "You're ready for the charts right there," says Randy. No he's not. C'mon. "Beautiful," says Steven. ARRRRGH.  Jairon is off to Hollywood.
Angie Zeiderman – 25 – Delray Beach, FL – When You've Got it Flaunt It/Blue Bayou – "People will call me Lady Gaga when I walk down the street sometimes," says Angie. "It's time for a vintage glitter queen on American Idol," she says confidently. O rly?  Angie sings "If You've Got it Flaunt It" from The Producers.  Why she thought that would be a good idea, I'll never know.  Her over the top Broadway singing comes off as a joke in the tiny Idol audition room. And who knew Randy hated show tunes? It was always Simon who complained about the "Broadway singers".  "That definitely turns me off," says Randy. "It brings out that vibrato that I don't like."  Jlo, on the other hand, is all about the showtunes.  Steven just looks confused.  After Shelby sings "Blue Bayou" she completely changes Randy's mind. Mine too, actually.  "Great little voice," says Steven. They advance her.
Magic Cyclops – Davenport IA – And so the Aspen auditions close with a joke contestant.  A comedian of an "undetermined age" whom I'm sure the producers found and planted for the yucks.  Yes, this is the way we say goodbye to Aspen–with an idiot dressed like a hippie talking in a horrible fake English accent. Dude is like a low rent Russell Brand. The conceit is that he's from Iowa, but has a British accent. Or something.   Actually,  Magic was the perfect ending to a terrible show.  If these contestants were the best of the 31, Aspen is in trouble.